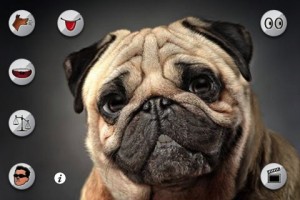 Description
The adorable Talking Puppy will repeat everything you say in a funny voice.
You can poke him, slap him or have him act out a bunch of pre-recorded comedy clips. Record everything he does and make your own Talking Puppy videos to share via Facebook, YouTube or Email.
His expressions and lifelike movements will amaze you and make your friends laugh. Whe making videos every action and sound is recorded for you to share.
***HOW TO PLAY***
Talk to theTalking Puppy and he will repeat everything you say with a funny voice
Poke him with your finger or slap him with a wet fish
Press the Tongue button to have him stick out his tongue
Press the Laugh button to have him laugh out loud
Press one of the clip buttons to have him act out a comedy clip
Press the Random Expression button to change his mood
Record everything he does to a video and either store it in iTunes or share it via Facebook, YouTube or Email
Just sit and admire his lifelike expressions and movements
Enjoy hours and hours of fun with Talking Puppy. Adults and children alike will love it.
*IMPORTANT*
iPod Touch Owners: Your earphones must have a microphone or I will not be able to hear you speak. There is no internal microphone on an iPod Touch.